DESCRIPTION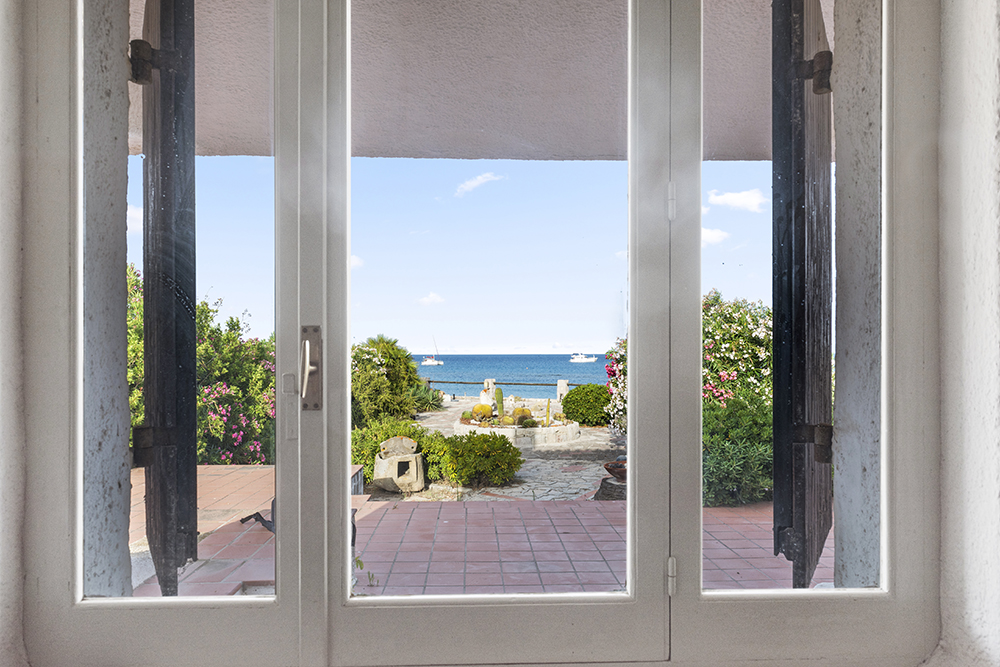 Italy Luxury Property offers its selected clients an unprecedented opportunity: an
exclusive property with direct access to the sea, situated in the charming setting of
the splendid beaches of Pula, in the south of Sardinia, alongside renowned luxury
hotels.

Elegant and refined, the villas rise on a generous plot of approximately 3000 square
meters, offering breathtaking panoramic views of the sea. An exceptional attraction
is the direct access to the beach through an exclusive passage reachable via a
staircase. Additionally, the property includes a gazebo with an adjacent barbecue
and covered parking spaces, lining the entrance avenue surrounded by pine trees.

The first villa, located at the entrance of the property, represents an excellent
housing solution for guests or family members, with an area of about 120 square
meters. Its private entrance leads to a spacious veranda, from which one can enjoy a
suggestive and panoramic view of the surrounding property. The interiors consist of
a large living room, characterized by a welcoming and prestigious atmosphere,
connecting to a spacious eat-in kitchen, creating an ideal space for socializing and
entertainment.

The villa is equipped with two bathrooms, finished with high-quality materials, adding
a touch of luxury and sophistication. Furthermore, there are three bedrooms,
including two double rooms, offering comfort and privacy for guests, and a beautifully
furnished master bedroom where occupants can relax in an environment of
unparalleled elegance.

This living space, with its autonomy and privacy, represents an ideal solution for
welcoming friends and relatives, providing them with an exclusive and comfortable
residence within this prestigious property. Besides adding value to the entire estate,
the villa harmoniously blends with the unique context of the splendid beaches of
Pula, in the south of Sardinia, offering an unforgettable and high-level stay
experience.

The main villa, a majestic and architecturally significant structure, spans two levels
with a total area of about 270 square meters, complemented by a 150-square-meter
terrace facing the sea. A private staircase from the terrace allows exclusive access
to the beach below, ensuring unparalleled privacy and luxury.

On the ground floor of the main villa, an elegant patio opens, leading to a separate
annex composed of 5 bedrooms, including a sumptuous master bedroom with a
private bathroom, along with two additional bathrooms. An internal staircase leads to
the living area, featuring a spacious living room, a kitchen with a dining area, and
three more bathrooms. This living area extends to a spacious terrace of over 150
square meters, perfect for enjoying unforgettable moments of relaxation and
conviviality.

Built in the 1980s, the villa is in excellent condition and represents a unique
investment, given its incomparable location and exclusive features.

However, to fully enhance its potential and preserve its uniqueness, a careful and
refined restyling intervention is recommended.

This extraordinary property is an unparalleled opportunity for the most discerning
buyers seeking a refined and exclusive environment right on the enchanting coasts
of Sardinia. The absolute rarity of villas with such characteristics makes this offer a
matchless opportunity in the luxury real estate landscape.